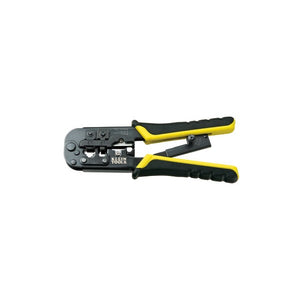 KLEIN VDV226-011 Ratcheting Modular Crimper/Stripper
Fast, reliable modular-crimp connector installation for voice and data applications.
All-In-One Tool, cuts, strips and crimps paired-conductor cables (round STP/UTP and flat-satin phone cable).
Crimps 4, 6, and 8 position modular connectors (RJ22, RJ11/RJ12, and RJ45).
Steel body with black-oxide finish for excellent performance and durability.
Crimping dies are precision ground from high-carbon steel.
Designed for Western Electric (WE)/Stewart Stamping (SS)-type modular connectors.
Ratchet safety-release and a blade-guard on cutting and stripping knives reduce risk of injury.
Full-cycle ratchet mechanism prevents the release of the connector prior to full compression.
Yellow and black grips enhance comfort, visibility, and allow quick identification.
Three crimping dies (8-position, 6-position and 4-position).
Cable parameters: 28-22 AWG (.08 - .34 mm²) flat or round; solid or stranded telephone & data.
Not for use with AMP® connectors.